THE COURSE OF TRUE LOVE NEVER DID RUN SMOOTH….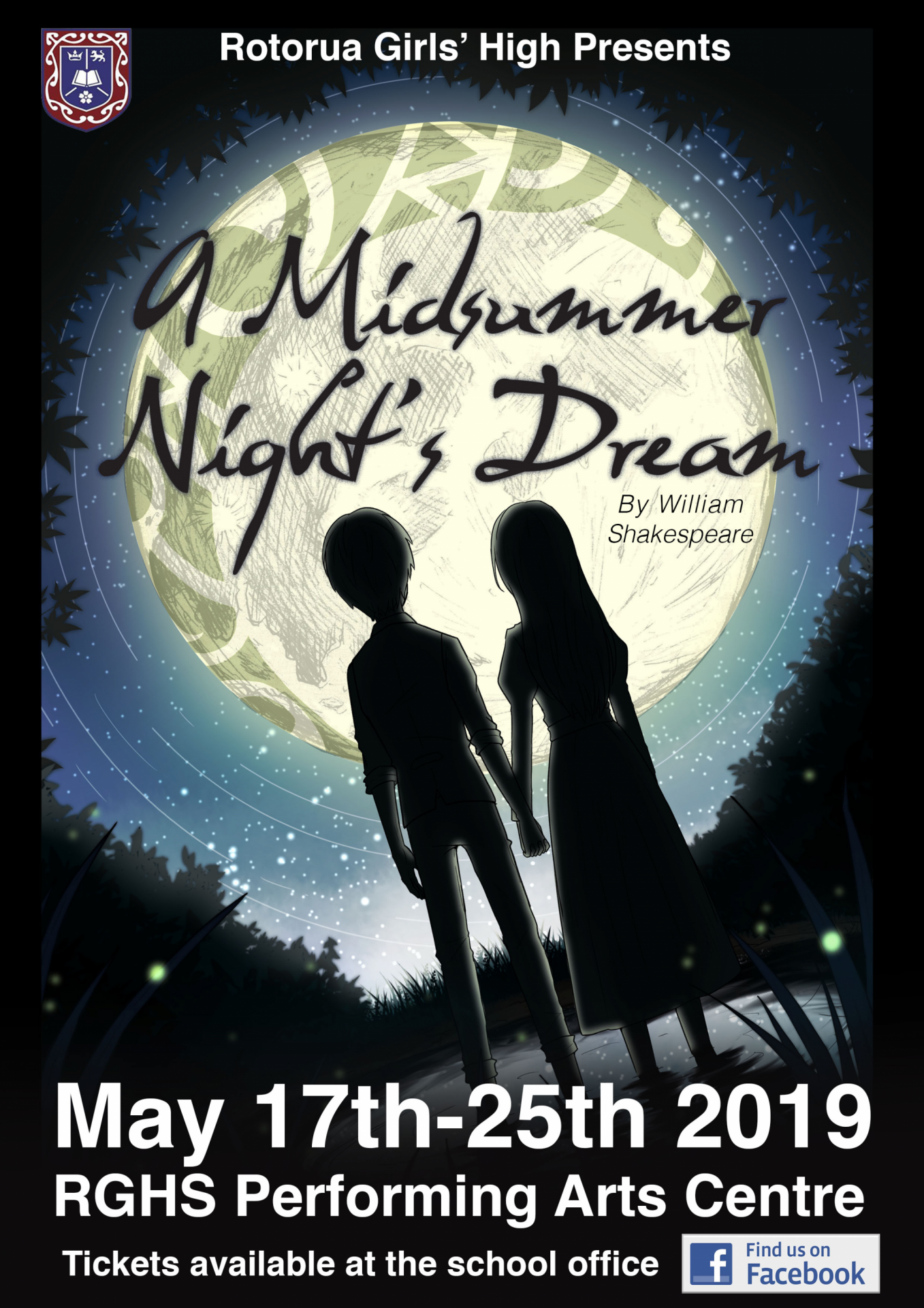 This year Rotorua Girls' and Rotorua Boys' High Schools present a collaborative interpretation of Shakespeare's, A Midsummer Night's Dream, in the RGHS Performing Arts Centre.
Come be a part of the magic and mystery of a Midsummer's night, as four young lovers find themselves wrapped in the dream-like arms of an enchanted forest where fairies rule. While a magical King and Queen are at war, their paths are crossed by a group of amateur actors rehearsing a play. Mischief-maker Puck is on-hand to ensure that the course of true love is anything but smooth, and games of fantasy, love and dreams ensue in Shakespeare's most loved comedy.
Rotorua Girls High presents
A Midsummer Night's Dream
By William Shakespeare
Director Bridget Donovan
Musical Director Laura Falconer
Choreographer Janaye Biddle-Kite
17-25 May 2019, Rotorua Girls High Performing Arts Centre
Performance Times
Friday May 17 - 7.30pm Opening Night
Saturday May 18 - 7.30pm Evening Performance
Tuesday May 21 - 7.30pm Evening Performance
Wednesday May 22 - 7.30pm Evening Performance
Thursday May 23 - 7.30pm Evening Performance
Friday May 24 - 7.30pm Evening Performance
Saturday May 25 - 7.30pm Final Night
Ticket Prices
$15 adult
$12 for student with ID
$10 for 12 and under
Buy Tickets Online
Tickets for the following performances are now available for purchase online.
Tickets will also be available at the school office. If tickets have sold out online for your preferred night, feel free to contact the office on (07) 348 0156 or drop in and see us at 251 Old Taupo Road, Rotorua.
Friday May 17, 7.30pm Opening Night
Saturday May 18, 7.30pm Evening Performance
Tuesday May 21, 7.30pm Evening Performance
Wednesday May 22, 7.30pm Evening Performance
Thursday May 23, 7.30pm Evening Performance
Friday May 24, 7.30pm Evening Performance
Saturday May 25, 7.30pm Final Night