Support the Rotorua
Girls' High School Alumni Fund
Welcome to Rotorua Girls High School
"EMPOWERING YOUNG WOMEN" - Toitu te mana wahine kia u ki te taumata
"AT ROTORUA GIRLS', EVERY GIRL COUNTS"
Kei te kura o nga kohine, he taonga te wahine
URGENT - Homestays Wanted for Japanese Students
Rotorua Girls High School has partnered with Sendai Seiryou Secondary School, Japan to bring 20 Japanese students to Rotorua as an exciting way to share out New Zealand culture and the English Language. We are seeking local area families who would act as host to a student. The students will be between the ages of 16 and 17 are scheduled to arrive on Tuesday 29 November and will be leaving on Monday, 5 December 2016.
Host families are expected to provide students with their own room, three meals every day and transport to and from school. The exchange programme can be incredibly rewarding not only for the visiting students, who get o experience NZ life first-hand but also for the host families. A homestay fee of $210 for hosting a girl (6 nights x $35per night) will be paid to host families to contribute to costs.
Please note that we have a responsibility to ensure that international students are well informed, safe and properly cared for, through following the Pastoral Care of International Students Codes of Practice 2016. To ensure the safety of the students, a Police Vet Check will be conducted. A mandatory host family orientation will be held at Rotorua Girls High School closer to the time. For additional requirements and more information on how to become a host family, please email principal@rghs.school.nz.
Upcoming Important Dates
| | |
| --- | --- |
| 10-Oct | Term 4 begins |
| 11-Oct | 5.15pm Combined Monthly Board and Resource Sub Committee Meetings |
| 15, 16 October | Bay of Plenty Junior Volleyball |
| 24-Oct | Labour Day – school closed |
| 25-Oct | 1.30pm – 4.00pm Art & Technology Exhibition for school; 5.30pm Art & Technology Exhibition Night |
| 27-Oct | 1pm Art, Sports and Cultural (ASCA) Awards Afternoon in ARENA |
| 29-Oct | Bay of Plenty Junior Volleyball |
| 3-Nov | 1pm Senior Academic Prizegiving in ARENA |
| 4 - 5 November | Bay of Plenty Junior Volleyball |
| 11-Nov | Bulletin # 8 online |
| 22-Nov | Open Day for Year 8 students enrolled for 2017 at RGHS |
| 7-Dec | 6pm Year 13 Graduation Dinner at Novotel Hotel |
Rotorua's ARENA is located at
RGHS 251 Old Taupo Road, Rotorua
For bookings and enquiries about Rotorua's ARENA phone 348 0156 or 021 973 804 or email wtakahi@rghs.school.nz
RGHS now has a School App -
Download our school app from the App Store or for ios here and for android here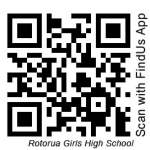 Scan to store our details, link to our website,absence button and more ...