Support the Rotorua
Girls' High School Alumni Fund
Welcome to Rotorua Girls High School
"EMPOWERING YOUNG WOMEN" - Toitu te mana wahine kia u ki te taumata
"AT ROTORUA GIRLS', EVERY GIRL COUNTS"
Kei te kura o nga kohine, he taonga te wahine
2017 INFORMATION AND COMMENCEMENT DATES
NEW ENROLMENTS/SUBJECT CHANGES
Rotorua Girls High School welcomes students at all levels who wish to enrol and enjoy a positive educational opportunity. Appointments can be made from Monday 23 January to Wednesday 25 January between 8.00am and 3.30pm for enrolments and subject changes. Appointments can be made at any time by using the school's 24-hour answer phone service.
SCHOOL OFFICE AND UNIFORMS
The school office is open from Monday 23 January 2017, 8.00am – 3.30pm. Student uniform items can only be purchased at NZ Uniforms, 1302 Ranolf Street (opposite Spotlight).
DATES FOR START OF SCHOOL YEAR
Students in Year 10 to Year 13 will start at 8.40am on Tuesday, 31 January 2017 and Year 9 Students will start at 9.45am.
WELCOME
A Pohiri to welcome new staff and students will be held in the Arena at Rotorua Girls High School at 10am on Tuesday, 31 January 2017.
Nau mai – Haere mai
Rotorua Girls High School
348 0156
251 Old Taupo Road
principal@rghs.school.nz
2017 Year 12 and 13 Uniform
Next year's Year 12 and 13 students will have a new uniform - see photo below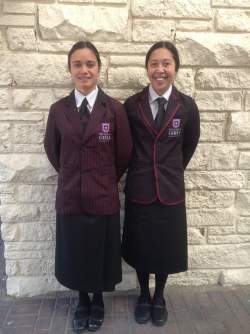 Click here to read more information about the new uniform and payment options that are being offered
Start Dates for 2017
Monday, 23 January – School Office reopens
Monday, 23 January – Wednesday 25 January: Enrolments and Option Changes with Deans
Thursday, 26 January – CoL Launch – Te Rangihakahaka Wananga
Friday, 27 January – Te Rangihakahaka Wananga
Monday, 30 January – Auckland Anniversary Day
Tuesday, 31 January – Term 1 begins for all students
Term Dates
Term 1 Tuesday, 31 January to Thursday, 13 April
Term 2 Monday, 1 May to Friday, 7 July
Term 3 Monday, 24 July to Friday 29 September
Term 4 Monday, 16 October to Wednesday, 13 December
2017 Public Holidays
Waitangi Day - Monday, 6 February
Good Friday - Friday, 14 April
Easter Monday - Monday, 17 April
Easter Tuesday - Tuesday, 18 April
ANZAC Day - Tuesday, 25 April
Queens Birthday - Monday, 5 June
Labour Day - Monday, 23 October
Rotorua's ARENA is located at
RGHS 251 Old Taupo Road, Rotorua
For bookings and enquiries about Rotorua's ARENA phone 348 0156 or 021 973 804 or email bookings@rghs.school.nz
RGHS now has a School App -
Download our school app from the App Store or for ios here and for android here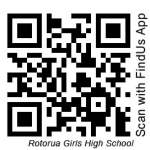 Scan to store our details, link to our website,absence button and more ...