Support the Rotorua
Girls' High School Alumni Fund
Welcome to Rotorua Girls High School
"EMPOWERING YOUNG WOMEN" - Toitu te mana wahine kia u ki te taumata
"AT ROTORUA GIRLS', EVERY GIRL COUNTS"
Kei te kura o nga kohine, he taonga te wahine
Nau mai – Haere mai
Rotorua Girls High School
348 0156
251 Old Taupo Road
principal@rghs.school.nz
SCHOOL PHOTO DAY 24 February.
On this day all whanau photos as well as Student ID photos will be taken. These are prepaid. Envelopes for Whanau photos are available from Whanau Teachers now. ID Cards are $5 per student and need to be paid for on or before 24 February 2017.
Date for the RGHS Swimming Sports Days
Wednesday, 1 March 2017 - RGHS Swimming Sports Day
Click to view more information about these events
Term Dates for 2017
Term 1 Tuesday, 31 January to Thursday, 13 April
Term 2 Monday, 1 May to Friday, 7 July
Term 3 Monday, 24 July to Friday 29 September
Term 4 Monday, 16 October to Wednesday, 13 December
2017 Public Holidays
Waitangi Day - Monday, 6 February
Good Friday - Friday, 14 April
Easter Monday - Monday, 17 April
Easter Tuesday - Tuesday, 18 April
ANZAC Day - Tuesday, 25 April
Queens Birthday - Monday, 5 June
Labour Day - Monday, 23 October
Rotorua's ARENA is located at
RGHS 251 Old Taupo Road, Rotorua
For bookings and enquiries about Rotorua's ARENA phone 348 0156 or 021 973 804 or email bookings@rghs.school.nz
RGHS now has a School App -
Download our school app from the App Store or for ios here and for android here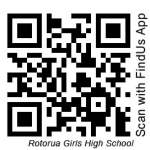 Scan to store our details, link to our website,absence button and more ...