Marautanga
Te Reo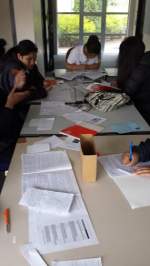 We strive to find every opportunity to bring our language to life in all areas of the school but the engine room for this strategy lies in the everyday learning experiences in our classrooms. We understand the varied entry points our students' bring to the classrooms and are re- liant on a range of differentiated learning styles to meet our girls' needs which means classes our Reo based rather than year level. In Year 11-13, students are working on NCEA Levels 1, 2 and 3 while year 10's can also access NCEA level one. Student voice has turned my programme upside down and inside out. It is exciting. At Senior level there have been more opportunities to find better and more innovative ways to learn. Students have stepped up to the platform of teacher and showed what is possible and how the classroom programme can change for the better.
Whakawhanaungatanga (relationships) is pivotal to the on-going development of the Reo programme and to understand our connectedness to each other we must first understand ourselves - au (me/I) and ultimately our relationship with our language and how we can use it. This began with how we connect with our Reo and what it means to us and then moving on to using the language in paired situations and using it to diffuse potentially explosive situations (conflict resolution). Our current journey with the language includes bringing the knowledge we have of a particular revitalisation strategy and sharing it with others in a larger forum.
Maori Performing Arts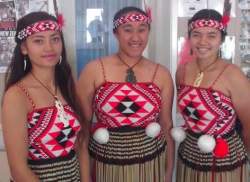 Māori Performing Arts (MPA) is built on a solid foundation of core Maori values such as whanaungatanga, manaakitanga, kotahitanga, wairuatanga and aroha.
These values set the platform for the acceleration of academic success. In addition to this, there is an even balance of theory and practice in relation to academic goals and learning experiences. Students are also encouraged to approach our local community for expert knowledge, this information is applied to their own re- search and consolidation of learning.
Staffing
Laurelle Tamati - Head of Faculty
Teacher of Year 9/10 MPA
Tutor - RAUKURA
Ngaire Tepania - Assistant Head of Faculty / Year 12 Dean
Teacher of Year 12 /13 Future Pathways
Aramoana Mohi-Maxwell - Deputy Principal
Teacher of Year 12 / 13 Reo
Jaylene Tamati
Year 10 Dean, Year 11 Te Reo Maori